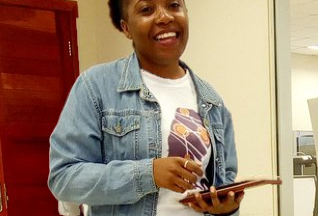 Product Manager, Mwabu Zambia; Trainer, Asikana Network; Co-lead Facebook Developer Circle Lusaka
I am Product Manager at Mwabu, where I have been working for the past 5 months now. I am from Zambia and got my BSc Hons in Computing at Zambia Centre for Accountancy Studies under an affiliation with Greenwich University in 2012. From October 2016 to December 2017 worked with Lima Links Zambia where I transitioned from a junior Python/Django Developer to the Project Manager until the time I left to join Mwabu.
I love learning new things, hence my constant search on what new things are trending in the Software Development Arena. In September 2017, I got interested in learning Machine Learning after we had a series of AI Masterclasses sponsored by Facebook via Facebook Developer Circles Lusaka where I am a Co-Lead. On the 3rd of March this year, I had an opportunity to do a presentation on Linear Algebra and Python basics at the Indaba in Lusaka Zambia.
​
I am also an advocate for promoting girls getting into STEM careers in Zambia. Because of this passion, I have been volunteering as a Trainer and Mentor under Asikina Network.