Introduction
IndabaX started in 2018 as a series of locally run, community driven events with the aim to strengthen the capacity in ML in African countries. The IndabaX network has grown since then from 13 countries to 27 – and this year in 2022, 25 countries are supported by Deep Learning Indaba in their initiatives. This support takes the form of seed money to help facilitate these important meet-ups, but also in the form of advice, mentorship and community. This year a committee of eight individuals are supporting the IndabaX local organisers. And of course the main Deep Learning Indaba in Tunisia is a major catalyst and support for these events.
Who are the countries with IndabaX communities this year?
We list them below from the largest African Nation, Algeria, to the country with the highest number of official languages in Africa, Zimbabwe.
1.     Algeria  – largest African nation

14.   Namibia

2.     Benin Republic

15.   Nigeria

3. Cameroon

16.   Rwanda – Fastest growing in ICT

4. Congo- Kinshasa

17. Senegal

5. Cote d'Ivoire

18. South Africa

6. Eswatini

19. Sudan

7. Ethiopia

20. Tanzania

8. Ghana

21. Togo

9. Kenya

10. Madagascar

22. Tunisia

23. Uganda

11. Malawi

24. Zambia

12. Mauritius. – first IndabaX taking place this year

13. Mozambique – first IndabaX taking place this year

25. Zimbabwe – the country with the most official languages in the world (16)
What has the IndabaX network gained in 2022?
Geographically, we gained another extreme point: the easternmost point in Africa, point Rodriguez in Mauritius to complement the Northwest point in Tunisia, Iles des Chinese and the Southernmost point in South Africa, Cape Aquihas. So this is indeed an achievement!!. We gained new countries, with Mauritius and Mozambique opening their first Indabax group.
In the 18th and 19th century, Africa was known as the 'dark continent', and little was known about its geography and people. A question in this century can be: Is Africa dark in terms of AI / ML? And if you allow me to use this metaphor, through the IndabaX events, Deep Learning Indaba is doing precisely that important task of shining a light onto the AI/ML community in Africa. When one looks at Global AI indices (such as https://www.tortoisemedia.com/intelligence/global-ai/), only a few countries in the north of Africa make it to the list of top 62 countries. Indices are impersonal, they can, by design, measure only some aspects, and comparisons are imperfect.
Take for example, the indicators used to measure talent for the Global AI Index: they quantify things such as the number of AI meet-ups, the proportion of AI / ML/ Data Science engineers on social media or as a proportion of the labour force, the number of Kaggle grandmasters, and so on. In my opinion, the existence of the IndabaX events and associated initiatives such as Zindi.africa have had a positive impact on this indicators. Local IndabaX events have helped hundreds of young people hear about and use competition platforms such as Zindi, cloud research platforms such as google colab and collaborative platforms such as GitHub.
The Research pillar of the Global AI index uses indicators such as the quality of local universities, number of AI research papers published. To understand these indicators, let us look briefly at the OECD.AI dashboard. See for example the OECD.AI dashboard for Tunisia: https://oecd.ai/en/dashboards/countries/Tunisia
This dashboard shows the number of publications in AI, the growth of publications over time, collaborations across countries. Tunisian researchers in AI for example, tend to cooperate with North African researchers. So here there is another clear impact that IndabaX events can bring, which is to energise the formation of new collaborations.
And these collaborations are very much possible and can be very fruitful. The OECD.AI dashboard shows that the top 5 countries in Africa with the highest growth in the number of publications in AI over 2017-2022[1] (the period of time Deep Learning Indaba and IndabaX have been held)  are: Eswatini, Madagascar, Rwanda, Mozambique /  Ethiopia.  Two of these countries are holding IndabaX events for the first time in 2022.  Not only that, but the growth of AI publications is in the region of 4x compared to a growth of less than 2x over the same period in countries such as the US, or European countries.
I leave you with these thoughts – perhaps during these IndabaX events we can reflect as a community on how to maximise the impact that is possible through these events on the AI / ML community in African countries.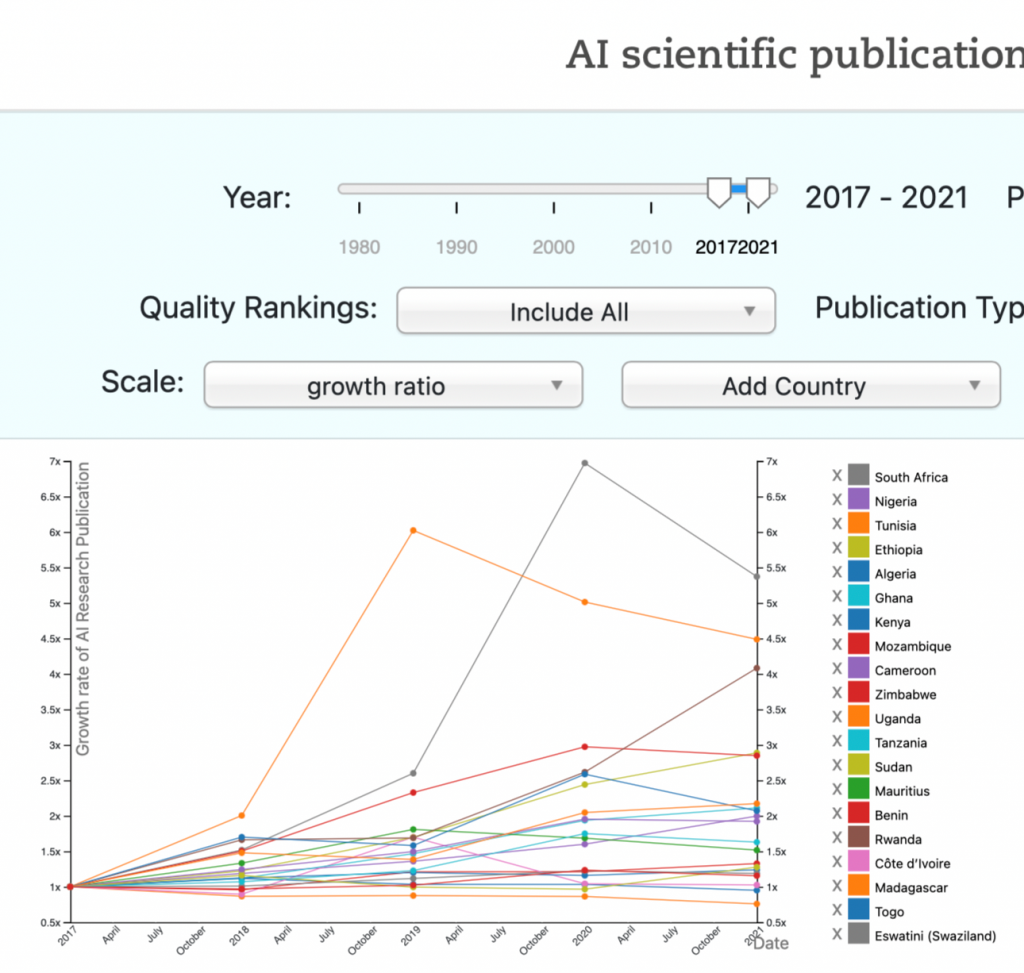 And how befitting it is that this year, in 2022, there is a physical Indaba held in Tunisia. Join us to make these events possible.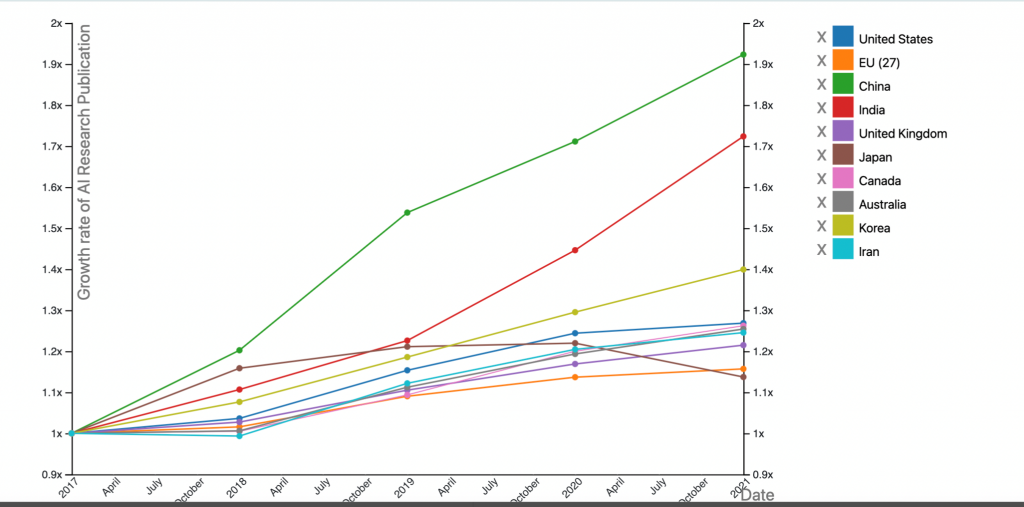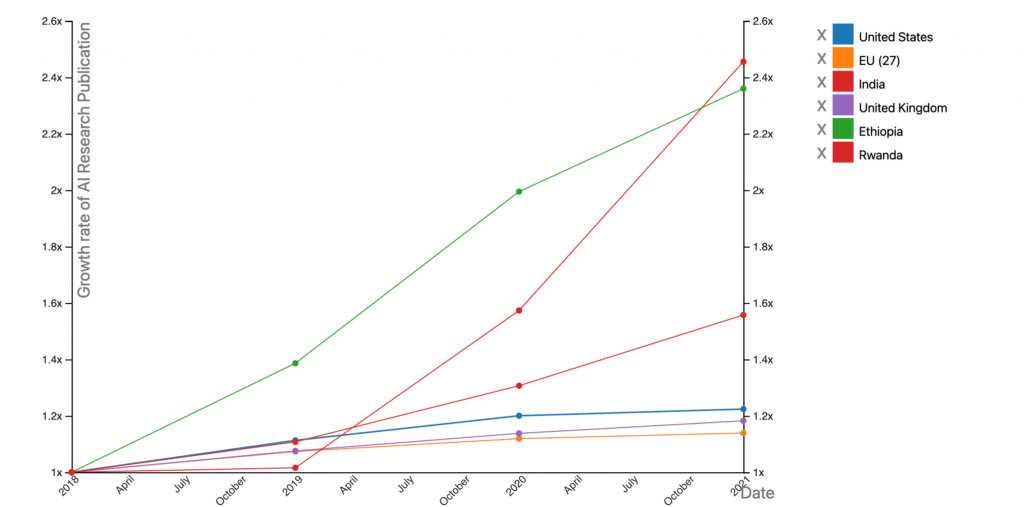 [1] ECD.AI (2022), visualisations powered by JSI using data from MAG, version of 31/12/2021, accessed on 4/7/2022, www.oecd.ai